When did you last scroll through your LinkedIn feed without seeing a top list of something? We live in times where much of the content we see is curated like it's straight from BuzzFeed. So, instead of calling this blog "The 5 greatest, mind-bogglingly awesome tools I use for recruitment in tech", I'll start with a humble proposal: read on, and I will give you a little tour of my personal toolbox. You probably know most of it. Maybe you've used some of it. But I'm sure you can pick up a new trick or two!
As a full-cycle recruiter and talent consultant at LevelUp Ventures, I had the opportunity to work with many inspiring people over the years and learn a lot from them (special shout-out to Eva Baluchova, Tom Vrenken, Laura Petrescu, and Reggie Ebbe). 
The side effect of that? I've collected a blend of tools and software that helps me recruit in my personal style: I automate what I can, but maintain the human touch. After all, the interpersonal connection is not only what gives me the most energy as a recruiter, it was also key to making me successful in both startups and scale-ups.
Sourcing – a no-brainer for the most part
A lot has been written and said about tools for sourcing, particularly for tech recruitment. In fact, I agree with our Head of Talent Jesper Larsen that, "tooling doesn't make the Sourcer". When I source, my friends are primarily a bunch of Chrome extensions. I never browse without my favorite ad blocker uBlock Origin (no distracting ads, faster browsing, more privacy) and Search Preview (preview pics in Google search, because the brain recognizes images much faster).
Speaking of quickly recognizing things: another no-brainer for me is a small and simple tool called Multi-Highlight. It will highlight words on any website in different colors. Your eyes will thank you when you scan candidates' profiles and those keywords catch your attention immediately, it will speed up your search greatly. (Caveat: the colors are random and only single words work.)
Finally, part of sourcing is to find a valid personal email address. Many tools are out there, much has been said about them, so I'm keeping it short. Lately, I've been using Nymeria.io (paid) and the free credits of Improver, because both work well in different locations and industries and are GDPR compliant. The latter makes it easier to let candidates know where I found their information and how they can get it removed.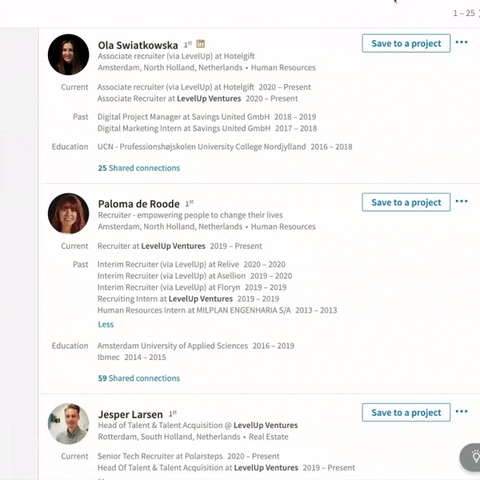 Sending cold emails that feel warm – My love-hate relationship with Lemlist
If you know me, you might know that I like to engage passive candidates with personalized emails. The more creative, the better – especially in tech recruitment. It's great to hear back from a developer who gets bombarded with recruiting emails daily (…and usually hates that).
Lemlist allows you to quite easily create personalized automated email campaigns and has some useful features to keep your beautiful emails from ending up in spam filters. However, the UI could use improvement – falling somewhere between childish and simply too confusing to navigate. Also, Lemlist shows an inflated response rate, based on opened emails rather than sent emails… cheeky.

To template or not to template, that is the question
At LevelUp, we carefully pick relevant candidate profiles and thoughtfully personalize our reach-out campaigns to engage them. So what happens once the responses start rolling in? Yes, we could type a manual response to each person (very personal, but this would take forever). Or we can use email templates to not waste time (often standard practice, but usually impersonal). I don't like either of these options. Candidates will smell that template smell and that's not the candidate experience I want to provide them with.
My secret here is a Chrome extension called Auto Text Expander, which allows you to quickly enter your personal text snippets by typing a code that you can choose. For example: Typing $com will quickly paste a sentence thanking them for a compliment, $ps will add the text for moving them forward to a phone screening… you get the idea. Instead of throwing a template email at the candidates, you can craft a custom response within seconds! A nice addition to a solid template library.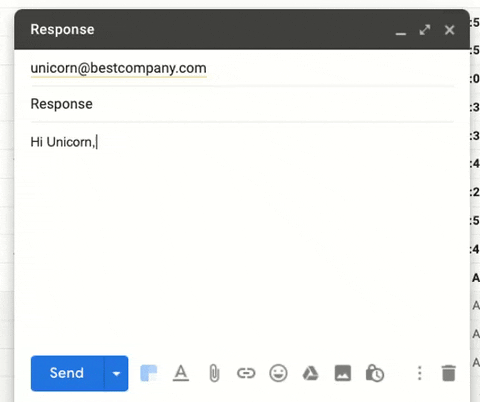 Eyes on the prize – Keeping an overview with Asana
In recruitment process outsourcing (RPO), project management is key (especially when using Agile for recruitment). When things get busy, it can be a challenge for me to keep an overview… focusing on the big picture (What steps are needed this week to be successful three weeks from now?) while not forgetting the nitty details (Add that Zoom link to the interview invite!).
Asana is a great work management platform and our backbone to keeping things organized. I even use it as a bit of a knowledge base for random bits of information (see screenshot). In fact, Asana is so intertwined with our way of working that you'll probably hear "Can you make me an Asana task?" if you visit our office for a day. I learned it from you, Aik Deveneijns!
Bonus: You know my toolbox, here is my newspaper 
On the off chance that you aren't subscribed to Hung Lee's newsletter Recruiting Brainfood yet, definitely do so right now. Learn about the latest recruitment tech and broader trends in the world of hiring. Because the best tools are only worth so much if you miss the big picture.